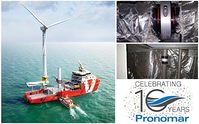 Once again, Vroon has chosen to put its trust in Pronomar's capacity to support the technical installation on its new offshore supply ship VOS Start, by installing multiple MERUS rings. Having more than a century's experience in the international shipping industry, makes Vroon certain that having MERUS rings on-board the VOS Start is the ideal solution to prevent possible scaling problems. They already built up experience by having the technology on-board the VOS Sugar, VOS Star, VOS Partner, VOS Passion and more.
The new subsea-support walk-to-work vessel VOS Start, built by Fujian Southeast Shipbuilding, has upgraded Vroon's existing diverse fleet, which now exists of approximately 200 vessels. It will be the first of two W2W vessels, which enables them to meet the growing demand for commuting personnel to offshore platforms.
The MERUS technology consists of a ring that is placed around the water pipe, which emits overlapping frequencies to the water. As a result, the growth of deposits, such as rust, scale, bacteria etc. is disturbed and the pipes and appliances remain clean for a longer period. This technology is beneficial for the VOS vessels, as the rings keep the hydrophore, warm water system and the reverse osmose system working on the most effective level. This does not only mean that all significant systems onboard stay clean, it also reduces the operational costs as the rings save time and money in maintenance.