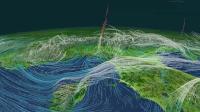 MeteoGroup, European supplier of weather solutions for the offshore industry, has been awarded the BBC Weather Contract.
At the conclusion of a rigorous procurement process encompassing a broad range of selection criteria, including data, technology, graphics, cost and a comprehensive evaluation of forecast accuracy, MeteoGroup was judged to offer the BBC the best solution for its requirements.
MeteoGroups' selection as the weather partner for one of the leading public service broadcasters in the world re-enforces its role as a global leader in the provision of accurate and innovative weather forecasting solutions.
Founded in 1986, MeteoGroup has thirty years' experience of delivering services to weather-critical markets worldwide, providing tools and support to assist its customers in making critical business decisions, creating value, saving costs, minimising risk and managing environmental impact.
In the offshore sector MeteoGroup is the supplier of a full suite of weather services for Offshore Oil and Gas Companies, Surveyors, Drillers and Constructors. The portfolio includes not only Nowcasting Pro, the world's leading operational planning tool for the Offshore industry, but also traditional location-based forecasting, Operational Planning solutions, full fleet monitoring services, Route forecasting services and Oceanographic forecasting.
The European market-leader, MeteoGroup has been supporting the offshore sector for more than 20 years, helping customers to operate safely and efficiently in very challenging environments such as the North Sea and globally from the Arctic Circle to the Southern Atlantic, and Australia to the Gulf of Mexico.