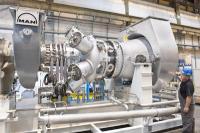 The Shanghai Aerospace Energy Corporation has opted to procure four gas turbines from MAN Diesel & Turbo for the energy supply of an automotive plant.
The MGT gas turbine series from MAN Diesel & Turbo is making its entry into the Chinese market. The Shanghai Volkswagen Automotive Company Ltd. (SVW) will utilize four 6.9 MW gas turbines of the MGT6200 series in a cogeneration (CHP) system.
Thus generating low-emission electricity and process steam efficiently in the future for the expansion of its automotive production plant in the north-west of Shanghai. SVW is thus actively supporting China's endeavors to make the national economy more sustainable with this initiative.
"As the Engineering, Procurement and Construction (EPC) contractor in this project, we are working closely with MAN Diesel & Turbo to complete the order on time and in line with our high quality requirements," explains Fang Jianping, CEO of Shanghai Aerospace Energy Co. Ltd (SAE). As EPC, SAE was directly contracted by SVW.