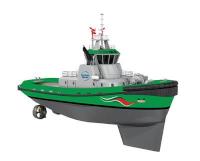 Drydocks World (DDW) based in Dubai, UAE, has contracted Wärtsilä to design and supply the propulsion and other equipment for a new harbour tug that will operate on liquefied natural gas (LNG). This will be the first harbour tug in the Middle East region to operate on gas. The order was signed in November.
The 29 metre long tug is the first of a series of nine such vessels to be built and operated by DDW. The project is part of a 'green' initiative launched by the Dubai government, and is intended to set an example for promoting environmental sustainability throughout the region.
"We are happy to work with Wärtsilä to promote a green image for our harbour work. Wärtsilä is a solution provider with vast experience and expertise in gas fuel systems. The company has a strong local presence and is capable of providing the support needed," says Mr Khamis Juma Buamim, Chairman DDW .
Wärtsilä is to provide a full scope of solutions for this Eco tug, emphasising both the company's leading position in enabling the use of LNG as a marine fuel, and its unique capability to provide a full range of solutions from initial design to lifecycle support. In all, Wärtsilä will supply the ship design, two 9-cylinder Wärtsilä 20DF dual-fuel engines, Wärtsilä Steerable Thrusters (WST), type WST-18 Compact thrusters, the automation equipment, and the Wärtsilä LNGPac system.