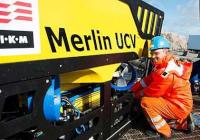 IKM Subsea AS (IKM) has announced receiving a contract award for ROV and Subsea services for Visund and Snorre B with Statoil.
The contract has duration of 10 years firm and the contract value for IKM is up to NOK 0.75 billion in total for this period. The contract may be extended for a further period of 15 years.
The contract represents a significant milestone and acknowledgement for IKM Subsea as a company, involving operational as well as technological challenges.
For first time, Statoil and IKM will introduce the so-called concept of RROV (Residential ROV). RROV represents a permanently subsea-installed ROV system operated from a dedicated operational base positioned onshore. This concept will define future applications of ROV technology, produce major operational advantages, and produce a platform for cost savings as compared to existing ROV concepts.
The contract referred to, will combine use of existing proprietary Merlin ROV technology in combination with RROV technology to be developed throughout this contract.
Similarly, the staffing of the operations will be a combination of traditional offshore crews in symbiosis with onshore crew operating the IKM developed control centre onshore.
Paulsen-IKM_Subsea.jpg
Project Engineer Roar Paulsen with IKM Subsea' s Merlin UCV (photo: IKM Subsea)