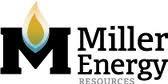 Miller Energy Resources, Inc. and its wholly owned Alaskan operating subsidiary, Cook Inlet Energy (CIE), announce a production update on the Company's directional Sword No.1 well which has been completed and was successfully brought online November 18, 2013.
The well was placed on artificial lift and has entered a flow-back period. Initial production from the Hemlock oil zone has averaged 883 BOEPD over a 96 hour period and is being processed through the Company's owned West McArthur River Field (WMR) production facility.
The initial completion incorporated the first of three targeted pay zones, the Hemlock oil sands, the Tyonek-G oil sands, and the Tyonek gas sands. The Sword No. 1 well is currently producing only from the Hemlock crude oil interval. The completion is designed with the flexibility to allow for testing and production through multiple additional oil and gas zones.