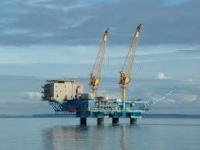 Miller Energy Resources, Inc. says that its board has appointed Phillip G. Elliott as Chief Financial Officer.
"We are excited that Phil has joined Miller Energy as its new CFO," stated Carl F. Giesler, the Company's Chief Executive Officer. "He brings a strong and focused work ethic as well as a proven and deep track record of financial and corporate development success. During his almost two decades at EQT Corporation, Phil played a significant role in helping grow the company's E&P business as well as in the formation of its affiliated midstream MLP (EQT Midstream Partners). Phil will help Miller Energy better align its capital structure as well as optimize the value of its substantial oil and gas and infrastructure assets."
"Jeff McInturff has worked tirelessly and performed exceptionally as our Interim Chief Financial Officer," added Mr. Giesler. "He will remain a key member of senior management and continue his responsibilities as Chief Accounting Officer."