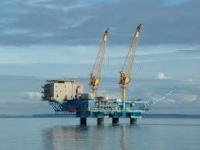 Miller Energy Resources, Inc. makes management changes and, prior to its Annual General Meeting, provides updates on its operations, strategic processes and financial positon.
John M. Brawley, the Company's Chief Financial Officer, has informed Miller's Board of Directors that he intends to leave the Company on November 14, 2014 in order to assume a Chief Financial Officer position with another energy company. The Board of Directors has appointed Jeffrey R. McInturff, Miller's Chief Accounting Officer, as the Company's Interim Chief Financial Officer, effective upon Mr. Brawley's departure. The Company has initiated a formal search for Mr. Brawley's successor.
"During John's tenure, the Company has made substantial progress in expanding its access to capital, lowering its cost of debt and improving its internal controls," said Carl F. Giesler, Miller's Chief Executive Officer. "We will miss John's leadership and judgment, and wish him the best in his new endeavors."