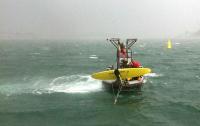 The Board of Swedish marine energy company Minesto has decided to apply for listing of the companys shares on First North at NASDAQ Stockholm and conduct a new issue of units directed to the public in Sweden of appoximatley EUR 10 million.
Minesto's tidal power plant, Deep Green, generates electricity from tidal and ocean currents. Since 2006 the company has invested more than EUR 20 million in the development of the unique and patented technology. Deep Green has been producing electricity off the coast of Northern Ireland for more than two years, and is the only proven marine power plant that operates efficiently in areas with low velocity currents. Minesto intends to use the net proceeds of the Placing to fund the company to a commercial phase.
Slow tidal and ocean currents are much easier to operate in than fast currents, slow currents are also more often located close to existing power grids. Energy from ocean currents will be an important part of the emerging sustainable energy mix, since it has several advantages compared to other renewable energy sources, such as wind and solar power.