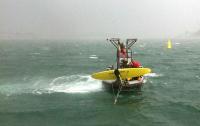 Marine energy company Minesto, raises another 145 MSEK and gets circa 2,500 new shareholders as a new share issue has been completed to the public in Sweden, and to professional investors. First day of trading with the company's shares on First North at NASDAQ Stockholm, is set to 9th of November 2015.
In the offer, aimed at the Swedish public, a total of 18,916,964 units is offered (105,934 998.40 billion), including settlements, which is an oversubscription of more than 10.7 MSEK. No allocation has therefore been made to the guarantee consortium.
The offer addressed to professional investors had a subscription of 6,987,107 units, representing SEK 39,127 799,20.