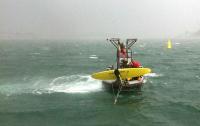 Minesto CEO Anders Jansson upon COP21:"Marine energy can become an important export business for many countries"
Our oceans are one of the world's largest untapped renewable energy sources. Managed properly by the politicians, marine energy is predicted to be the fastest growing climate neutral energy form in the coming 20 years. "Many politicians need to take their responsibility and raise the ambitions for the upcoming COP21 in Paris", said Anders Jansson, CEO of world leading marine energy company Minesto.
According to leading experts, companies and investors the fossil fuel industry is regarded as a vanishing sector. Partly because solar and wind energy already today can produce electricity at a low cost without causing a negative impact on the climate. A third renewable sector, marine energy, is rapidly expanding, as the EU has quadrupled the budget from the Seventh Framework Programme that ended in 2013 to the New Horizon in 2020.