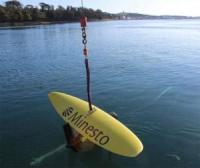 Minesto has won The WWL Orcelle Award at the Ocean Exchange Event in Savannah, Georgia, USA. Minesto was awarded the prize for having proved a great potential to accelerate sustainability.
The Ocean Exchange Event, which was held in Savannah Georgia, 5-7 of October, was handed out in two categories, of which Minesto won The WWL Orcelle Award and $100,000. A panel of 250 invited delegates from companies such as Boing, Caterpillar and Wallenius Wilhelmsen Logistics, selected the award winners among 10 finalists on site in Savannah, starting with 145 entries.
The WWL Orcelle Award rewards the solution that best can demonstrate the greatest potential to accelerate sustainability with applicability across multiple industries, generating positive impact on the environment, economies or health while respecting cultures around the world.