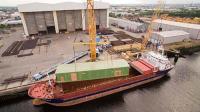 Modulift supplied spreader beams and rigging equipment to international freight forwarder FH Bertling Logistics Aberdeen, which lifted a 282-tonne substation module onto a vessel bound for Kazakhstan at AV Dawson's North Sea supply base in Middlesbrough, UK.
The module, measuring 37 metres long by 9.3 m wide and 6.2 m high, was constructed by Mech-Tool Engineering at Dawsons Wharf on the River Tees in the UK's northeast. AV Dawson provided port services, including rigging and stevedoring support, while its in-house shipping agency, Cockfield Knight, helped to get the ship in and out of the port.
The Modulift one-over-two configuration comprised of a MOD 400 spreader beam at the top and two MOD 110SH spreader beams below. However, to tailor the rig to the module and its centre of gravity the top beam was rated to 350t capacity and the other two rated to 200 tonnes. Custom length struts were fabricated so the spreaders were at the exact length required by Bertling. The total arrangement height was approximately 34.5 m.
Bertling, also a tenant on AV Dawson's site, accepted a scope of work to lift the module from stillages in Middlesbrough and install it on foundations at its end destination. Sixty axles of self-propelled Kamag K2400ST trailers and a Terex CC2800-1 crawler crane were employed on the dockside. The Modulift equipment travelled with the module, where it was used beneath the hook of another Terex crawler, model CC6800, in Kazakhstan.
The logistics phase of the project represented a further collaboration between Bertling; Sarens, who supplied the cranes to Bertling in the UK and Kazakhstan; and ALE who undertook the 710 km land transport to the site in Kazakhstan. This substation module was the largest of five similar units for the project and the only one for which Bertling had to procure lifting equipment.
Mike Hetherington, technical director at Bertling, says, "We regularly advise clients on best practice lifting gear design as part of turnkey transportation projects. In this case, the client had purchased the substation module without lifting equipment and asked Bertling to come up with a proposal."
Bertling consulted extensively with below-the-hook equipment manufacturer Modulift, which provided a complete, custom fabricated solution to cater for the dimensions of the load. The module featured a bolted lifting lug arrangement for the lift using shackles and slings, also provided by Modulift.
Chris Schwab, sales manager at Modulift, says, "The module had a slight offset centre of gravity and needed to have a vertical sling connection to avoid any potential forces being applied to the structure. A one-over-two configuration was the only viable solution."