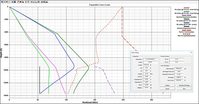 Mohawk Energy, developer of expandable tubular technology, and Innova Drilling and Intervention have entered an alliance for the continued development of analysis software for deployment of expandable system.
Mohawk has a historical collection of rig site data and deployment analysis for well integrity, Openhole and ReFrac Liners. These tools have become an inherent part of the operational toolbox required to deploy an expandable liner and analyses the in-situ performance of the liner under wellbore loads.
Innova with its expertise in Toque and Drag software has built the progressive modules into its existing Innova Engineering software package to allow real-time analysis of deployment loads, horizontal liner shrinkage and management of three strings in operation. Furthermore, the stress calculations for installed liners under ReFrac'ing loads are being integrated.
Scott Benzie, Co-Founder of Mohawk Energy says, "We need the capability to ensure we select the correct rig and work string, as well as understand the working window of installation before we commit a job to a customer. This package brings a higher level of engineering process tour offering." Daniel Wessel, Managing Director of Innova adds, "We want to extend the tools and applicability of our package and increase the customer base, new cutting-edge technologies allow Innova to do this."