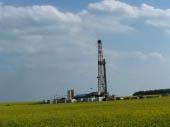 MOL Plc. informs the capital market participants that the Field Development Plan (FDP) for the Akri-Bijeel Block in Kurdistan has been agreed upon by the Minister for Natural Resources and shall be formalized in the forthcoming management committee meeting.
MOL Kalegran Ltd. (a 100% subsidiary of MOL) has operating in Kurdistan since 2007 and is the Operator of the Akri-Bijeel Block. The Operator announced two commercial discoveries in the Block. The FDP is based on these two discovery areas, i.e. Bijell area and the Bakrman area.
The development will be done in two phases, phase one objective is to allow the Operator to better determine key factors such as the minimum reserves base, recovery factor, optimum surface facility design and overall life of field development cost. Phase I will start immediately with 4 drilling rigs and 1 work over rig to help reduce the overall timeline with front-end-loading wherever possible for Phase II.