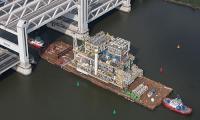 The Montrose Bridge Linked Platform (BLP) topside has sailed out from Heerema Zwijndrecht, one of the production locations of Heerema Fabrication Group (HFG). HFG has built this topside for Talisman Sinopec Energy UK Limited.
At the end of 2012, TSEUK and HFG signed the Approved for Construction contract. In March 2013 Heerema Zwijndrecht started fabrication and constructed within three years the 10,500 tonnes topside with a length of 75 metres, a width of 44 metres and a height of 40 metres. "I am proud of what we have accomplished in those three years," says Ronald Wiebes, Yard Director Heerema Zwijndrecht. "It is a complex topside full of equipment. The success of this project is among other things due to the excellent cooperation with the customer in all levels of the organisation. I think it is a perfect example of how a customer and a contractor come to the best result in all aspects by joining forces."
Koos-Jan van Brouwershaven, CEO of Heerema Fabrication Group adds, "The key in this challenging contract is trust. Trust to work together as one team to finalise this topside at a high quality level and in-time for scheduled sail away."
Before the topside sets sail to its final destination in the British part of the North Sea, it will make a stopover in Schiedam. At the end of April, the project will be ready for departure. Heerema Marine Contractors (HMC) is responsible for both the transportation to the offshore location and the installation on site which will be performed with HMC's crane vessel Thialf.
Frank Huijben, HFG's Project Manager Talisman Montrose BLP: "During the preparations for the sail away we – HFG and HMC together – showed that with our combined expertise and experience we can offer added value to the client." In his opinion, the Montrose project is special because it contains a lot of functionality considering the size of the module. "As a result the topside is overfull which made construction completion and alignment between the various disciplines a great challenge. In addition to our own HFG disciplines many subcontractors have contributed to the successful execution. Characteristic of this project is that we constantly managed to gear all the work to one another with all those involved in a great atmosphere which enabled us to deliver a high-quality product."
The final destination of the topside is the Montrose field. This field lies in Block 22/17 of the United Kingdom Continental Shelf, 207 kilometres east of Aberdeen in the Central North Sea.