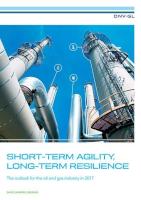 New research by DNV GL, the technical advisor to the oil and gas industry, shows oil and gas companies seeking to rebalance business portfolios and reorganising for a new era. In a period of drawn-out recovery, almost half (49%) of senior oil and gas professionals surveyed expect their businesses to diversify into, or invest more in, opportunities outside of oil and gas. Still, almost eight out of ten see long term opportunities for gas.
Short-term agility, long-term resilience is DNV GL's seventh annual benchmark study on the outlook for the oil and gas industry providing a snapshot of industry confidence, priorities and concerns for the year ahead. It draws on a global survey of 723 senior sector players.
The research by DNV GL reveals signs of deep, strategic changes for sustainable growth beyond cyclical patterns. 26% of industry leaders expect their business to invest or increase investments in renewable energy in 2017. As many as 59% see investments in renewables as a shift in long-term business strategy.
"The number of companies we now see pursuing opportunities beyond oil and gas signals a step change in the reshaping of the sector and demonstrates its ability to adapt and build a more robust, diverse and sustainable energy future," says Elisabeth Tørstad, CEO, DNV GL – Oil & Gas.
Oil and gas professionals expect investments to continue across the value chain in 2017, though at a lower level than last year as the percentage of respondents expecting to maintain or increase CAPEX has dropped from 43% to 39%. Notably, 77% believe gas will become an increasingly important component of the global energy mix over the next 10 ten years.
"Despite the drawn-out recovery, investments are still being planned across the value chain. In 2017 we will see broadening of business portfolios and consolidations for growth as a way of reorganising for the future," Tørstad comments.
A third of respondents (33%) say their organisations will be increasing M&A activity in the next 12 months (up 10%). More than three-quarters of respondents (78%) expect increased industry consolidation in 2017.
85% have cost management as a top or high priority for 2017 and a majority (63%) see their current cost-efficiency measures as marking a permanent shift towards a leaner way of working. Organisational restructuring (37%), reducing operating expenditure (35%), and improving efficiency from existing assets (29%) are the top three priorities for cost control in 2017.
Two-thirds (66%) say that the cost pressures are driving more industry collaboration, a positive effect of recent market challenges. Standardisation efforts are also increasing as it helps remove remaining complexities. 66% of respondents say their organisation will seek greater standardisation of tools and processes in 2017, up from 59% last year.
Digitalisation is also increasingly seen as a means to enhance operational and cost efficiencies. 39% expect their organisation's spend in this area to increase in 2017. Half (49%) of respondents also said their organisation will embrace digitalisation to increase profitability.
"Last year, we saw intense and painful short-term cost-cutting measures in the industry," Elisabeth Tørstad comments. "Though few expect a recovery in 2017, and cost-cutting measures are still on the table this year, confidence in the oil and gas sector growth has stabilised for now and opportunities are being created. Improved focus on collaboration, standardisation and digitalisation will enable the industry to transform to meet the demands of the new era and become profitable in volatile markets."