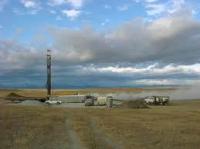 Mountainview Energy Ltd. provide an operational update on the 2013 summer drilling program in the Williston Basin.
Operational Update
Mountainview has now completed its second drilling program in 2013 on the 12 Gage Project. With the completion of this latest program, the Company operates 4.3 net wells (6.0 gross wells) in the project and approximately 35%-40% of the project lands are held by production. Based on field production numbers, the Company averaged 890 barrels of oil equivalent (boe) per day ("boe/d) gross (715 boe/d net) of 90% oil for the first 15 days of October in its 12 Gage project with 4 wells producing. Overall Mountainview has seen its overall corporate production increase by 290% on both a gross and net basis since the beginning of 2013.
The Company achieved its goal of reducing drilling and completion costs from $7.5-8.0 million on its initial 2013 drilling program in the 12 Gage Project to approximately $6.5 million for the summer drilling program.