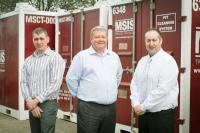 MSIS has increased its business development team in Aberdeenshire with a number of key managerial appointments as it gears up for significant overseas expansion and continues to grow its UKCS position.
The company, which provides specialist cleaning and waste management products and services both on and offshore, is on track to increase its £11million turnover by 50% in the next three years through expansion at home and abroad, with 10% of revenues to come from international business.
Scott Laing, Alex Cain, Mike Ironside and Sarah Brown have been appointed to support the Inverurie-based company's plans to break into the Middle-Eastern and West African markets.
With an in-depth knowledge of global markets and oilfield products, Scott Laing has been appointed as business development manager. He has 23 years of experience of mergers and acquisitions in the upstream oil and gas sector worldwide.
Prior to joining MSIS, Mr Laing held a number of senior business development positions where he generated growth, delivered increased revenue and profitability for companies with operations in the UK, Middle-east and Africa.