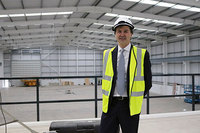 A private-equity backed manufacturing firm has announced the creation of a new engineering services division, following an initial GBP 9.5 million investment that will see dozens of jobs created in the north-east of England.
Pryme Group, which provides integrated manufacturing solutions to the oil and gas, defence and aerospace industries, has developed the state-of-the-art facility with support from both private and public-sector organisations, including North Tyneside Council.
Additional grant funding of GBP 1.35 million was provided by the North East Local Enterprise Partnership (LEP), through the UK Government's Local Growth Deal; allowing UK Land Estates to build the unit speculatively at a cost of GBP 4.5million.
Located at the Tyne Tunnel Estate, North Shields, work is well underway to ensure the 58,000 sq ft site is fully operational by the middle of 2018. Meanwhile, Pryme Group has signed an initial 10-year lease with the option to extend the agreement by an additional five years.
The business, which has already committed around GBP 3.5 million in new equipment and CNC machinery, expects to double its current workforce to more than 150 in the next 5 years – with at least 20 new personnel to be added by the end of next year.
Pryme Group has specialist, in-house expertise across a range of complementary manufacturing services. Three separate group companies – MKW Total Engineering, Stargate Precision Engineering and TME Hydraulics – have now been amalgamated under the same banner, having previously been situated in nearby Ryton, Tyne and Wear.
Angus Gray, CEO of Pryme Group, says, "The move to Tyne Tunnel Estate creates a unique opportunity to bring together the combined talent and expertise of the distinct Pryme companies under one roof. We anticipate that the site will be up and running by mid-2018 and look forward to the opportunities the new, state-of-the-art facility presents clients, staff and suppliers."
"We would like to pay tribute to North Tyneside Council and, in particular the North East LEP and UK Land Estates, for their investment and support in making this process as smooth as possible. I am confident that our increased presence in the Tyneside area will create room for further growth and provide a welcome boost to the local economy as we embark upon this exciting new chapter," Gray adds.
Sean Collier, senior manager – business and development at North Tyneside Council, says, "We already know that North Tyneside is a great place to live, work and visit and we are delighted that Pryme Group has chosen the borough to set up its new premises. These are exciting times for this ambitious engineering firm and the prospect of new jobs being created is great news for local residents and the region as a whole. On behalf of North Tyneside Council, I would like to welcome the company to North Tyneside and we look forward to continuing to work with them in the future."
David Land, chair of the North East LEP's investment board, says, "Attracting more and higher skilled jobs to our region is a key priority of ours and we are delighted that Pryme Group has been able to benefit from this Grade-A industrial unit, developed by UK Land Estates with support from the North East LEP."
Keith Taylor, managing director of UK Land Estates, says, "We are delighted with the result of this GBP 4.5 million capital investment, in partnership with the North East LEP, which is a further enhancement of the Tyne Tunnel Estate. We are extremely pleased to have been able to attract an occupier of Pryme Group's standing as we continue our investment programme across our core estates."