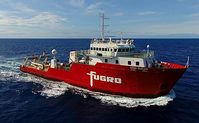 The newly named MV Kobi Ruegg has joined Fugro's vessel fleet and is set to begin her first project in the Egyptian sector of the Mediterranean Sea. Working on behalf of Saipem, Fugro will deploy its large diameter piston core system to collect soil samples in the Zohr gas field; geophysical surveys for Pico and Shell will follow.
The 3-year-old vessel has been renamed Kobi Ruegg in honour of a former member of the Board of Management at Fugro and previously operated in the Gulf of Mexico for Fugro. She replaces the Fugro Navigator which has been permanently retired as part of Fugro's ongoing vessel rationalisation process.
Permanently mobilised with a full range of geophysical survey and geotechnical sampling equipment, as well as aSeaeye Panther remotely operated vehicle, the purpose-built, 58-metre, multi-role survey vessel is based in Alexandria, Egypt. From her new home port of Abu Qir, she will deliver Fugro's marine site characterisation services to clients in the Eastern Mediterranean and Red Sea.
Köbi (Jakob) Rüegg passed away in March 2017 after an all-too-brief period of retirement. Köbi worked tirelessly for Fugro for almost 20 years, and from 2009 until he retired in 2013 was a member of the Board of Management with responsibility for the Offshore Survey Division. He is remembered as a hardworking, experienced and dedicated colleague with a distinctive style and sense of humour.
At the formal naming ceremony held in Egypt in September, Mike Dravitzki (Fugro's Regional Director) highlighted how the new vessel sent a strong signal of Fugro's commitment not only to Egypt, but also to the wider Middle East region. "We are honoured to name this vessel in Köbi's memory," he continues. "He visited Egypt regularly during his long career and inspired all of us to work hard, in a professional and safe manner, to deliver high quality results to our clients."