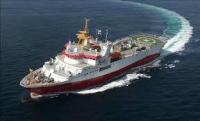 Australian energy company WHL Energy Limited has completed the 1,528 km2 Junon 3D seismic survey.
The specialist seismic acquisition vessel M/V Polar Duchess contracted by Ophir Energy plc ('Ophir Energy'), operator of the jointly held Seychelles exploration blocks is demobilising from the survey area.
The survey has been completed with no reportable environmental or safety incidents. WHL Energy is carried up to US$17.0m through the acquisition and processing of the seismic survey by Ophir as part of Ophir's farm-in to the Seychelles acreage. The survey took 36 days which was in line with the 30-40 days estimated and within budget. The data will now be processed with an initial fast track processed data set expected to be delivered in September and a PreSTM processed volume in December.