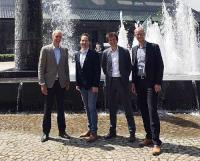 Subsea IMR provider, N-Sea, and BODAC UXO have announced an agreement to jointly market and execute marine UXO Survey, Identification and Removal projects across Belgium, the Netherlands, Germany and Scandinavia. In doing so, they will have the capability to offer developers, contractors and operators of offshore windfarms a complete suite of UXO solutions.
N-Sea has gained an impressive track record of unexploded ordnance campaigns, with experience in the investigation and mapping of potential targets using state of the art survey methods, ROVs and divers. With a history of 60 years' activity within the subsea sector, N-Sea is known for its innovative work as an independent offshore subsea contractor, specialising in IMR services for the oil and gas, renewable and telecom/utility industries, as well as for civil contracting communities.
BODAC is an unexploded ordnance (UXO) risk mitigation expert, and has accumulated many years of national and international experience producing desk top studies, detection, identification, and removal activities of UXOs. Care for aircraft wreckage, and archeological finds also forms part of the services rendered by BODAC. In delivering their services, BODAC combines expert knowledge backed by relevant certificates and modern equipment.
N-Sea CEO, Gerard Keser, welcomes the agreement between the companies: "The cooperation between N-Sea and BODAC will significantly reduce the required interface between different service suppliers and our customers. Together, N-Sea and BODAC have the track record, project management teams, vessels, survey equipment, all relevant certificates and outstanding reporting capabilities to provide offshore windfarm developers and power cable owners a cost efficient solution to clearing their corridors and installation plots."
Jochem Langenhuijzen, CEO of Den Ouden Group (owners of BODAC), adds, "The cooperation with N-Sea presents a big opportunity for customers to benefit from many years of experience of BODAC in the survey, data processing, identification and clearance of UXOs. BODAC possesses Dutch OCE certificates, and German Paragraph 7 and 20 certificates in its own name, and looks forward to offering seamless offshore UXO services in cooperation with N-Sea."