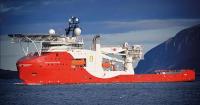 Integrated subsea service provider, N-Sea, and the University of Strathclyde's Institute of Sensors Signals and Communications at the Department of Electronic and Electrical Engineering, have secured substantial funding from the Data Lab Innovation Centre for an innovative research project to automate subsea pipeline inspection.
The collaboration combines N-Sea's state-of-the-art inspection expertise and the University of Strathclyde's innovative data analytics research.
David Murray, Survey and Inspection Data Centre Manager at N-Sea, says, "We're enjoying working with the University of Strathclyde on this innovative project and grateful to the Data Lab for supporting this partnership. Our joint collaboration is pivotal to the success of the project which we hope will transform pipeline inspection operations. As a world-leader in subsea pipeline inspection, we have seen ROV technology evolve significantly over the years. However, inspection operations still require ROV pilots and inspection engineers who annotate the data acquired. By working closely together, we aim to automate the inspection process and operate ROVs at previously impossible speeds."
In the last 10 years, the subsea inspection landscape has come a long way in terms of sensors and high definition cameras, however the annotation process remains a largely manual process. The approaches and techniques adopted by the University and N-Sea have never before been attempted in the subsea environment and promise to transform the inspection industry.
Commenting on the University's partnership with N-Sea, Dr Christos Tachtatzis, Academic Principal Investigator, Lecturer and Chancellor's Fellow at the University of Strathclyde, says, "Our research group is excited to partner with N-Sea in this innovative project for the hostile and extreme subsea environment. Deep learning approaches have great potential to speed up the inspection processes which remain manual and labour intensive. We have a long tradition of conducting industrially relevant research with high economic, environmental and societal impacts and this is a prime example of the challenges we seek to provide solutions for. Owing to the support of the Data Lab, we are looking forward to a fruitful collaboration with N-Sea."
Duncan Hart, Business Development Executive at the Data Lab, says, "We're very excited to support this project, using state of the art data science to help N-Sea create an innovative solution, which will have a significant positive impact on the oil and gas industry during these tough economic times and will continue to advance academic research in this field."