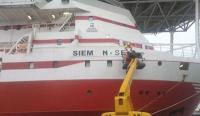 Following 3 years of successful operations, N-Sea - the Inspection, Maintenance and Repair (IMR) specialist - has extended its charter agreement with Siem Offshore, concerning its offshore subsea construction vessel, Siem N-Sea, previously Siem Stork.
The agreement has a duration of up to 6 years, having begun on January 1, 2015.
The Siem N-Sea is a dive, multi-support and construction vessel, designed to meet the needs of the offshore subsea industry. It is one amongst N-Sea's fleet of six dive support and specialist intervention vessels, designed to deliver a range of subsea services for offshore assets, platforms, FPSOs and renewables operations, with minimal impact made upon production.