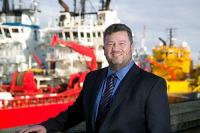 N-Sea has been named as winner of the Northern Star Business Awards' "Commitment to Innovative Use of Research & Development" category.
The ceremony took place in Aberdeen last night (Thursday 24th September), where N-Sea was recognised for its innovative and unique TUP (Transfer Under Pressure) Diving System©. N-Sea created the closed bell system to increase both workable bottom time and diver safety, and recently demonstrated its on-going commitment to the future of the upstream industry by further upgrading the system, resulting in ground-breaking improvements, wrought through a complete refit over the past 12 months, at a cost of £3.5million.
Roddy James, chief operating officer at N-Sea is delighted the company has received this accolade: "This award really does go a long way towards recognising the big differences N-Sea is making to major businesses. Innovation is inherent in all that we do, and the catalyst for that has always been our desire to provide our clients with the safest, most efficient and cost-effective service.