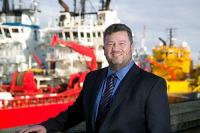 As part of its continuing global growth strategy, subsea IMR provider N-Sea has announced the opening of a new office in Dubai, with operations due to commence as early as August 2016.
The new base will support N-Sea's increased presence in the region, allowing the company to conduct diving, ROV and survey projects in the civil engineering and offshore markets throughout the UAE.
The company has appointed Asa Gamble as Managing Director for the Middle East region, who will be responsible for the establishment and growth of all N-Sea services and products in the region.
N-Sea Chief Operating Officer, Roddy James says, "In order to meet the growing needs of our subsea clients, it was essential to open a base in the Middle East. The area is a key focus for us and we are delighted to be expanding our survey and IMR operations whilst growing our presence in a new market. Asa's depth of knowledge and experience in the Middle East will be invaluable to N-Sea, as we support our customers through our specialist solutions. N-Sea's presence in Dubai demonstrates our commitment to the UAE, and allows us to offer the best possible service to our customers in the region."
Commenting on his appointment, Asa says, "This is an exciting new role for me, and I'm looking forward to the challenge. N-Sea has an outstanding track record in diving, ROV and survey projects and I look forward to utilising my considerable experience of working in the Middle East to ensure that N-Sea is ideally positioned to grow within this market place."
N-Sea is known for its innovative work as an independent offshore subsea contractor, specialising in IMR services for the oil and gas, renewable and telecom/utility industries, as well as for civil contracting communities. N-Sea provides near shore, offshore and survey services to major operators and service companies alike.