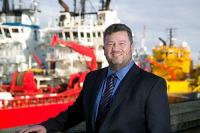 As part of its continuing global growth strategy, subsea IMR provider N-Sea has announced the opening of a new office in Stralsund, Germany.
The new base will support the country's offshore renewable energy market, with N-Sea undertaking on-going maintenance and repair services to existing and planned windfarms.
The company has appointed Jörg Butgen as Business Development Manager, who will be responsible for the establishment and growth of N-Sea's services and products in the region.
N-Sea Chief Operating Officer, Roddy James says, "In order to meet the increasing needs of the German offshore renewable market, and service our clients to the optimum degree, it was essential to establish a permanent presence in the area. The market is growing at an exponential rate as the German government investigates renewable energy options to supply its national grid. N-Sea's field personnel and management teams have accrued a significant array of expertise and experience in delivering the relevant services to the European renewables sector, with an extensive portfolio of experience in both the German and Dutch energy sectors."
"Jörg brings over 30 years of invaluable experience, having held several high-level industry positions, including Head of Marine Operations and Diving Superintendent for Bard Offshore. His knowledge of the region and its renewable marketplace will prove indispensable, as we support our customers through our specialist solutions," adds James.