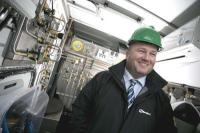 Aberdeen-based subsea IMR provider, N-Sea Offshore Ltd is to move into new premises as business continues to grow.
The company has outgrown its current offices in Dyce and is adding additional office space to accommodate an increase in staff numbers as it expands operations both in the UK and internationally.
The new office facility at Salvesen Tower will not only accommodate N-Sea's significant expansion of Aberdeen-based staff, but has also been chosen to house an enlarged project management and engineering department. Since early 2014, N-Sea has added 15 UK staff allowing the company to expand its service offering.
Explaining the strategic relevance of the move, N-Sea's chief operating officer, Roddy James said: "N-Sea has evolved considerably in the short time since we established our presence within the UK. We are currently in the process of articulating our plans for expansion through investment in people, equipment and vessels to ensure we continue to deliver effective and cost efficient solutions to our clients.