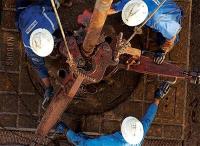 Nabors Industries Ltd. Says that Bristol Bay Native Corporation (BBNC) has signed a definitive agreement with Nabors Alaska Services Corp. to acquire a 100 percent ownership interest in Peak Oilfield Service Company LLC (Peak). The acquisition is subject to customary closing conditions and is expected to close during the fourth quarter of 2013.
Due to its unique and diverse capabilities, Peak is a leading Alaska energy support services company serving customers located primarily within the Alaska North Slope, Cook Inlet, Valdez and North Dakota regions.
"For the past 25 years, Peak has provided safe and cost-effective construction, maintenance, industrial cleaning, power generation and transportation services to energy companies in Alaska and the northern United States. As a result of its excellent reputation with customers, Peak has strong potential growth opportunities as market conditions continue to improve and the industry benefits from recent tax legislation changes in Alaska," said Nabors Chairman, President and CEO Tony Petrello."We believe transferring ownership to BBNC, a very successful and diversified Alaska Native Corporation, will further strengthen Peak's long-term growth and future success."