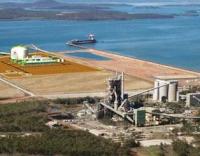 The Directors of Liquefied Natural Gas Limited are pleased to advise that Canada's National Energy Board (NEB) has granted Bear Head LNG Corporation and Bear Head LNG (USA), LLC (collectively, Bear Head LNG) authorization to export liquefied natural gas (LNG) from Bear Head LNG's project site on the Strait of Canso in Nova Scotia.
The NEB licencing decision approves Bear Head LNG's application for authority to export up to 8 million tonnes per annum (mtpa) of LNG from Canada starting in 2019 with expanded authority to increase production to 12 mtpa in 2024. The export licence extends for a period of 25 years from the date of first LNG export.
Bear Head was also granted a licence to import 800 million cubic feet per day of natural gas from the U.S., an amount adequate to produce the authorized annual LNG exports. As with all other LNG projects, the NEB's export licence decisions are subject to approval by Canada's Governor in Council.