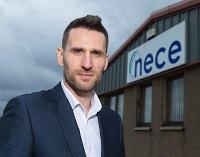 Integrity monitoring solutions specialist North East Corrosion Engineers (NECE), part of the ICR group, is celebrating the start of 2017 with its first contract in Kazakhstan.
The company, based near Ellon, Aberdeenshire, secured a contract with Karachaganak Petroleum Operating BV (KPO) for the provision of corrosion coupon removal services for pipework on onshore oil and gas production facilities in Kazakhstan.
The contract will run for 3 years with the option for a further two 1-year extension options. The value of the contract is estimated to be in excess of GBP 500,000.
Corrosion coupons are used for measuring corrosion rates though a weight loss calculation. Technicians from NECE will break into live process systems without affecting production, removing the original coupons and replacing with new ones.
All the activity will be undertaken by NECE under normal site operating conditions. The contract will require the replacement of approximately 400 coupons.
NECE managing director Alan Taylor says, "Winning our first contract in Kazakhstan is a major step for us in developing more business in this region. The contract with KPO kick-starts what we believe will be an optimistic 2017 for our business, as we expect to secure more work both in the North Sea and globally throughout the year."
NECE, which employs 22 people, is currently recruiting and will increase its international presence with support from ICR. The company is also planning to enhance its research and development programme by exploring new technologies and advancing existing products.
The ICR group includes five companies delivering world class integrity, maintenance solutions and technology to an international customer base in the oil and gas, energy and defence sectors through its subsidiaries NECE, Chemical Injection Utilities (CIU), Walker Technical (WTR) Quickflange and Moss.
The NECE contract with KPO is the second recently secured by an ICR company in the country. Ellon based CIU successfully fabricated and commissioned nine engineered chemical injection systems for a major operator in Kazakhstan during 2016. All systems supplied were fully automated, included chemical tanks and were designed to operate in the harsh climate conditions within region.
ICR's chief executive officer Bill Bayliss says, "With the improvements and changes made within the ICR group of companies, both managerially and operationally, we are starting to see the dividends of all our hard work. We are motivated that the ICR business will continue to grow at pace in the coming months and service many new clients both internationally and in the UK."