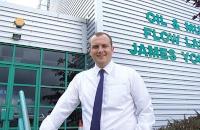 NEL, the flow measurement R&D specialist, has developed a new method to improve the accuracy of differential pressure meters for high viscosity oil, which will help the oil and gas industry to reduce financial exposure and tackle the challenges involved in its measurement.
Approximately 70% of the world's remaining oil reserves are classed as "heavy oil", while differential pressure meters account for around 40% of all flowmeters in use worldwide. However, as they were not originally designed to cope with heavy oil applications, differential pressure meters are less frequently used due to current inaccuracies. NEL estimates that these inaccurate measurements could be costing millions of dollars per year, in addition to costs associated with the necessary physical property measurements.
Craig Marshall, Flow Measurement Engineer at NEL, who has undertaken the work as part of his engineering doctorate at Coventry University, says, "As the world produces ever more heavy oil, accurate measurement is critical in order to safely control the production processes and optimise recovery, as well as meet sales and pipeline agreement requirements. It is also essential to support taxation reporting and allocation measurement when operators share pipelines. This method has the potential to benefit multiple industrial sectors where viscous fluids are processed."
NEL developed the new measurement approach to meet an urgent industry requirement to address the challenges of more accurately measuring highly viscous flow. It is based on differential pressure technology and removes current performance errors by providing a corrected discharge coefficient in real-time. In addition, the method also provides a measurement of the density and viscosity of the fluid; two key parameters for the calculation of mass or volume flow and pipeline entry criteria. This potentially removes the requirement and associated costs for sampling systems, inline densitometers and inline viscometers, providing a powerful all-in-one measurement solution.