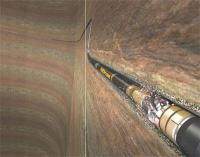 Luxembourg headquartered Neo Oiltools has launched its ground-breaking down-hole torque management tool, NeoTork.
NeoTork automatically manages torque generated from the drill bit and mitigates axial and torsional vibrations. As a result it brings down the drilling time, reduces the cost of drilling operations while improving drilling performance.
"It is during times of challenge, such as the one the industry currently faces, that we often see new technologies emerge because service companies need to find ways to differentiate themselves," said Pascal Bartette, Neo Oiltools CEO. "NeoTork addresses the operators' challenge to cut costs and improve efficiency while limiting the number of trips that always remain a safety exposure.
"We expect NeoTork to be a very significant step forward for the oil and gas industry," Mr Bartette continued. "There's no other product that is as simple to use as NeoTork nor one that provides customers with such good value for their investment. Some have even called it 'drilling made easy' which I think sums up exactly what we've managed to create."