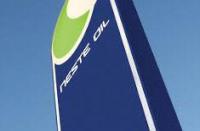 Neste Oil Singapore Pte Ltd and National Oxygen Pte Ltd (NOX), a wholly owned subsidiary of Japan's Taiyo Nippon Sanso Corporation, have signed an agreement to install a carbon dioxide (CO2) recovery and liquefaction plant at Neste Oil's renewable diesel refinery in Singapore.
Construction is planned to commence in the fourth quarter of 2014 and the plant, which will process an average 40,000 tons of CO2-rich gas from the refinery yearly, is expected to be completed and fully operational by the fourth quarter of 2015.
"I am very happy to announce this agreement with NOX," says Jussi Hintikka, Vice President in Energy in Neste Oil. "The new recovery plant will improve the refinery's resource efficiency and see one of our sidestreams become a valuable raw material for NOX."