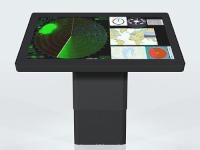 Hatteland Display, global provider of display and computer solutions for professional maritime use has passed Type Approval for its innovative 55-inch Ultra High Definition Chart & Planning table. Integrating the cutting-edge of flat panel technology, the clarity, colour range and size of Hatteland Display's flagship Multi Vision Display system is a key enabler of safer navigation and future maritime bridge design.
The concept of a large 4K resolution Chart & Planning table was born out of a realisation that maritime display technology evolution is vital to improving the effectiveness of modern bridge systems. As a 55-inch display, it provides the size needed to integrate system data in a single display, enabling Integrated Bridge System (IBS) and navigation technology manufacturers to combine multiple data from ship systems into a single, user-friendly system. Crucially the 4K resolution ensures that multiple data types can be easily viewed under all conditions.
Already IEC 60945 tested and ready for order, following Type Approval testing the 55-inch Ultra High Definition Chart & Planning table becomes the most advanced platform for the safe and effective use of ECDIS. With its Ultra High Definition 4K resolution, unmatched brightness and contrast, and high reliability, IBS/ECDIS manufacturers, systems integrators and even Electronic Navigation Chart (ENC) producers can provide more clarity, detail and functionality for navigators. The system is set to become the foundation for new approaches to ergonomics and user-friendliness on maritime bridges, supporting navigators to improve safety and voyage planning.
Hatteland Display has designed the 55-inch Ultra High Definition Chart & Planning table as a flexible solution, suitable for a wide range of applications including ECDIS, radar and voyage planning systems. Features include a Touch Screen display, multi data input, built in On-Screen Display (OSD) and the option to be supplied calibrated for ECDIS. A mechanical pod that houses a Hatteland Display HTC02 computer (optional) provides lift and tilt capability for the Floor Stand Model (Chart Table configuration) but the system can also be easily integrated in bridge consoles or mounted on walls, and made operational with minimal preparation.
"The 55-inch Ultra High Definition Chart & Planning table is designed to become the central focus on the bridge of the future as it has the capability to clearly display multiple data in one place, which is a growing requirment as vessel operations become more complex and data-centric," says Trond K. Johannessen, President and CEO, Hatteland Display. "Type Approval testing of our flagship display system enables IBS manufacturers to meet the needs of their customers by designing smart shipping solutions that deliver gains in safety and operational efficiency, by leveraging the most innovative technologies, data integration and display methods."