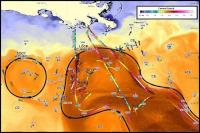 In a breakthrough project sponsored by the US Energy Department's National Energy Technology Laboratory (NETL), private-sector partners Fugro and Areté Associates have developed, commercialised, and sold a system that can monitor offshore current conditions from the air, providing critical information in record time for oceanographic research and emergency situations, such as oil spills and search and rescue missions.
The new technology, called the Remote Ocean Current Imaging System (ROCIS), measures ocean surface current velocities from an airplane in near real-time over a broad area. The system was recently deployed on its first operational project to characterise conditions in the US Gulf of Mexico during a period of intense current conditions over a distance of more than 78,000 statute miles – the equivalent of about three trips around the world.
ROCIS is the first commercially available system of its kind and represents a significant advancement in technology for mapping surface current conditions over a wide area of ocean. In just four hours, the system can survey ocean currents at 800-foot intervals over a track of 500 to 680 miles. Traditional methods would take a combination of four vessels 24 hours to cover the same area.
Optimising recent advances in remote sensing and aerial survey, Fugro and Areté Associates developed ROCIS using digital camera technology, highly accurate positioning systems, and advanced image processing algorithms to derive surface currents from wave measurements. The technology can be installed on survey aircraft equipped with a navigation system augmented by Fugro's Starfix© satellite positioning system.
Using ROCIS, data is reviewed in real time on board the aircraft. Within an hour after the aircraft lands, the system produces a "quick-look" map of the currents over the surveyed area. Processed data files are available a few hours later.
Funding for the project was provided through the Ultra-Deepwater and Unconventional Natural Gas and Other Petroleum Resources Research and Development Program authorised by the Energy Policy Act of 2005. The program, funded from lease bonuses and royalties paid by industry to produce oil and gas on federal lands, is designed to assess and mitigate risk, enhancing the environmental sustainability of oil and gas exploration and production.