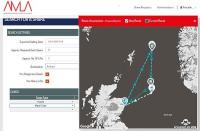 At the quarterly AMLA (Aberdeen Marine Logistics Alliance) members' meeting, facilitator Peterson launched a new app for members to manage their vessel sharing arrangements.
The app, developed by technology specialist Streamba, gives AMLA members instant access to available sailings up to a week ahead together with real time information on estimated cost and CO2 savings. The app uses route visualisation software to help users review options and make decisions.
Chris Coull, regional director, Peterson says, "This app is our latest step in applying data driven technology to facilitate sharing in the North Sea. Our approach of building software from the bottom up helps us deliver solutions developed from a user perspective and we engaged with AMLA members throughout the development and testing stage."
"With AMLA it's all about facilitating ad hoc shipping requirements quickly and effectively. Input and feedback from our members told us that instant access to real time sailings and capacity was fundamental. This app puts the members in control, giving them full visibility of options and costs from which to make a choice and significantly shortening the time from request to finalisation," adds Coull. Hitman software, Power DVD, Ashampoo burning studio 20.0.0, AVG internet security 2019 offline installer and Kaspersky total security 2019 best price sale 60% off and Acronis true image 2018 bootable iso download
Members can upload availability on their own vessels ensuring that any additional capacity on voyages around the North Sea is effectively made available on the market. With an established agreement covering the contractual and commercial terms of AMLA shares, once a suitable share is identified arrangements can be finalised within an hour.