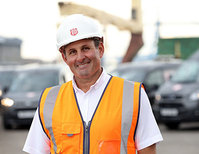 A North East based logistics and freight specialist has made a series of key appointments to help deliver its future growth and expansion plans. AV Dawson, which owns and operates a 100-acre freight terminal and employs over 240 staff in Teesside, has made a series of key appointments to help deliver further growth and expansion in 2018.
Andy Watkins has been appointed as Operations Director. Andy will ensure the business continues to deliver a high quality, efficient operation as it expands into new market sectors. Andy is no stranger to AV Dawson having worked for the company for over 30 years, working his way through the ranks since he first started out as a stevedore, loading and unloading ships.
Gary Dawson, AV Dawson Managing Director comments, "Andy has made himself invaluable to the business and has shown real commitment and dedication. His knowledge and experience on the operational side of the business is second to none and he was the natural choice to take the position."
"I have had the privilege to work with Andy for a number of years, Andy followed in his father's footsteps to join the business similar to myself. His appointment really reinforces our company values and shows our commitment to dedicated and loyal staff. Andy is already making a huge difference."
Watkins, since his appointment, has made a number of key hires to help strengthen and bolster his team. Mark Wells joins the business from offshore company Enermec and has taken the position as Head of Engineering and Shaun Cuthburt joins the business from Stockton Borough Council as Building and Infrastructure Manager.
Watkins comments, "Working for a business such as AV Dawson, it is difficult not to be passionate about your work, the company's strong principals and family values really drive home its commitment and development of staff. It's a privilege that I can now take the position as Operations Director and relish the opportunity to drive further growth and improvements. I am pleased to welcome Mark and Shaun, they bring with them years of combined knowledge and experience and have a genuine passion for the job."
In addition, AV Dawson has made strategic appointments in its procurement, transport and commercial and marketing departments, aimed at delivering increased efficiencies, growing and diversifying the business and developing existing customer relationships.