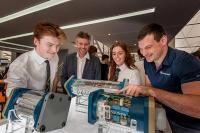 The 2016 Offshore Achievement Awards have been launched 10 September, 2015 and include a number of new categories which will give more businesses and individuals than ever before the opportunity to be recognised for their outstanding work.
This year marks the 30th anniversary of the awards since their inception by Scottish Enterprise. In 2011, the Society of Petroleum Engineers (SPE) Aberdeen Section re-launched the prestigious awards, which are now open to both oil and gas and renewables companies.
New categories this year include Environmental Innovation, which focuses on technologies or systems that have reduced the industry's environmental impact, and Collaboration, which recognises multiple companies or inter-company teams effectively working together on a project, or those collaborating closely with the community on CSR initiatives.