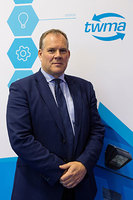 TWMA, provider of specialised Drilling Waste Management services, is expecting its growth strategy to accelerate, with a target turnover of GBP 200 million and headcount to reach 1,500 following investment from Buckthorn Partners earlier this year.
To support the strategy implementation, Tony Branch will expand his current Director role within TWMA, taking over from Ronnie Garrick as CEO. Garrick expands his remit as President of the Company, focusing and leading on three key growth development areas: merger and acquisitions activity; new geographic expansion; and new product and technology development.
Specialists in the oil and gas sector, private equity investors Buckthorn acquired TWMA in May 2017. With a current a turnover of GBP 50 million, TWMA employs 540 personnel across offices and service bases in Europe, the Middle East, North Africa, West Africa and the Americas. The firm's expertise and technology continue to be internationally recognised for providing tailored, drilling waste management solutions that reduce drilling costs and maximise operational efficiency.
With a strong presence in the Middle East and North Africa, including a new service base in Abu Dhabi, TWMA will shortly announce further growth plans across the region.
Tony Branch comments, "Since the initial investment we received six months ago, the TWMA team has created robust plans, which will result in an exponential level of growth. The development of our senior management structure is a natural and positive step, which better allows us to drive those plans forward, and meet some exciting objectives. A key goal is to develop TWMA's already-strong international profile, which is centred on a clear commitment to our clients who require innovative and cost effective solutions for their drilling operations. I look forward to leading the global team and building upon the successes we have achieved to date."
Most recently President of Regional Operations at Weatherford, Tony brings over 25 years' experience in the global drilling sector.
Ronnie Garrick adds, "Since TWMA was formed in 2000, we have been committed to providing specialised technology which is utilised in everyday drilling operations, as well as for more challenging projects. The expertise and investment Buckthorn brings has allowed us to focus on the next stage of development – with a specific emphasis on acquisitions. Our aim is to expand both geographically and via new products and services that provide our clients with the significant financial returns to be gained from effective management of drilling waste."