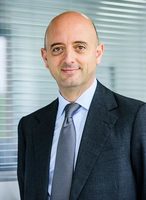 V.Group's new Chief Executive Officer, Ian El-Mokadem has joined the organisation. El-Mokadem brings a wealth of experience in leading and growing customer focused, international service businesses, and his arrival marks a significant milestone in the Group's ambitious transformation plans.
In June this year, V.Group announced a new and simpler structure to enable a closer relationship with customers. This new structure has now been bolstered with the appointment of a strong leadership team, which blends a real depth of maritime experience with broader service industry expertise.
The ship management business is spearheaded by Alastair Evitt in the east and Maurice Baker in the west. Marine Services is led by Elliot Gow, and Martin Gaard Christiansen started earlier in September as Chief Commercial Officer.In the past month, V.Group has also confirmed the appointments of Chief HR Officer, Jim McHugh who joins on 30 October, and Chief Transformation Officer, Jon Key, joining in November.
John Pattullo, V.Group Chairman says, "We are delighted to have Ian on board and look forward to this next phase of V.Group's journey as we strive to deliver superior world-class solutions for our clients. On behalf of the Board, I'd like to thank Hanne Sorensen for her leadership, helping to ensure that we were able to keep the momentum of our ambitious plans to shape the future of the ship management industry."
On joining the Group, Ian El-Mokadem adds, "I am delighted to be starting at V.Group today and I'm very much looking forward to meeting my new colleagues and our customers. My initial priority is to learn more about our business and that of our customers so I'll be spending a lot of time listening over the coming weeks and months. With a talented organisation – both at sea and ashore - I am very confident that we will achieve our ambition of becoming a blue chip, innovative, highly professional service provider to ship owners around the world."