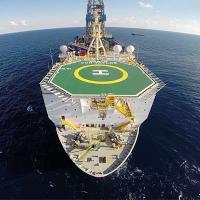 Noble Corporation plc has announced that Adam C. Peakes has been named as Senior Vice President and Chief Financial Officer of the company, effective January 23, 2017. In his new role, Mr Peakes will oversee corporate finance, financial reporting, accounting, tax and treasury activities at the Company.
Since 2011, Mr Peakes has served as Managing Director and Head of OFS Investment Banking at Tudor, Pickering, Holt & Company. From 2000 – 2011, he served in various roles at Goldman Sachs & Company, most recently as Managing Director, Global Natural Resources – Investment Banking Division.
David W. Williams, Chairman, President and Chief Executive officer of Noble Corporation plc, comments, "I am delighted that Adam will be joining Noble. He brings a deep knowledge of the oil service business and strong capital markets experience. I look forward to Adam joining our management team."
Mr Peakes received his undergraduate degree from Rice University in 1995 and an MBA from Harvard University in 2000.