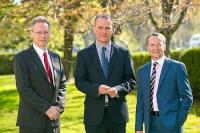 A new company focused on the plugging and abandonment of wells in the North Sea's decommissioning sector has been set up by three oil and gas industry veterans.
More than half of the estimated £40 to £70 billion which will be spent decommissioning infrastructure in the North Sea will go on plugging and abandonment.
Aberdeen-based Well Decom has been launched to help companies manage costs by minimising the risks inherent in the planning of well decommissioning operations.
However, unlike others in the industry, Well Decom will not carry out the operational work itself but will instead offer strategic advisory expertise so operators - or their financiers - can be confident that their projections are robust.
Founder Stephen Jewell has previously held high level positions with Amerada Hess, co-founded and subsequently sold an independent exploration and production company - Composite Energy Ltd - and founded Xodus Subsurface Ltd, before establishing his own consultancy.
He says, "Despite the industry's best efforts to extend field life, the North Sea is a mature basin and there are around 8000 wells which will ultimately require decommissioning. The industry estimates that two thirds of those will have to be decommissioned in the next 30 years. More than half of the money spent on decommissioning will be spent on the wells – the bits you don't see – and as well as being the costliest part of the total project it carries particular risks and uncertainties. When a well is plugged and abandoned it needs to be sealed, forever."
Jewell, along with co-founders Graeme Johnston and Peter Greaves, each have 30 years' experience in the industry, including a considerable amount in well decommissioning, and want to assist operators to plan and prepare for end of life projects.
"The oil price drop has made decommissioning more relevant for many operators and we believe that, because those costs are so big at the end of field life, cost estimates for decommissioning should be subject to careful scrutiny. Just like reserve estimates, there is uncertainty associated with these liabilities and Well Decom is appropriately equipped to assess those uncertainties. We can operate in a similar space on the liabilities side as a reserve estimator on the asset side," Jewell adds.
Jewell believes that while new technology has an important role to play in helping bring down decommissioning costs, it is very important that operators don't see it as the only option.
"Managing the risks and uncertainties involved in re-entering old wells is not just about having a new technology, it's about careful planning and preparation," he says.
Well Decom has worked closely with Aberdeen-based Strategic Decom since it was founded two years ago, which offers a strategic advisory decommissioning service on the facilities side. The two companies have now formed a partnership to offer a complete service.