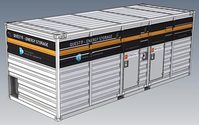 Norwegian Electric Systems (NES) has signed a contract with Havila for two new Quest®-2 Energy Storage Systems.
Experience shows that the average savings with Energy Storage System installed is up to 15-20 %. The savings will, in the three different modes be 5-10 % in transit, 20 % in standby/ harbour and 25-30 % in DP mode (Dynamic Positioning).
The Energy Storage Systems shall be installed onboard Havila Charisma, a HD833L design, built at Havyard Ship Technology, Leirvik in December 2012. NES is the supplier of this vessel`s diesel electric propulsion system. The other vessel is Havila Foresight, a MT 60120 MKII, designed by Marin Teknikk and delivered in December 2007.
Both these vessels will be retrofitted with battery containers with an energy capacity of 625 kWh and possibilities for extension to 750 kWh. The idea is that the Quest® -2 system shall be utilised in three different modes:
Transit/ steaming.
Stand by/ harbour.
DP mode.
The fuel consumption and emissions will be significantly reduced in DP mode, where the batteries works as a spinning reserve. This means that the vessels only needs one running generator set and when more power is needed the Quest®-2 system is ready to supply the extra power. NES` Quest®-2 system together with NES` Energy Management System has numerous potentials. NES has always been working with the development of the so-called "Energy Storage" systems with a focus on adapting it to any marine market segment.
"The future looks bright for NES with state-of-the-art products and systems which can compete internationally," says Jan Berg, EVP Business Development.