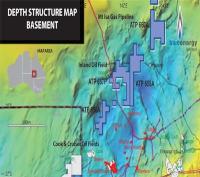 A sparsely explored area of Australia's Cooper Basin is the focus of a new oil and gas search by Blue Energy Limited following the granting of four key permit areas to the Company by the Queensland Government.
Blue Energy has been notified by the Queensland Department of Natural Resources and Mines that ATP 656P, 657P, 658P and 660P have been officially granted to the Company's wholly-owned subsidiary, Blue Energy (Qld) Pty Ltd. The effective commencement date of these permits is 1 July 2014 and the initial permit terms will be 4 years.
The permits are located over an area of 5,200 square kilometres on the Northern Flank of the Cooper Basin in Queensland, where the Ballera-to-Mt Isa gas pipeline traverses one of the permits, ATP657P.