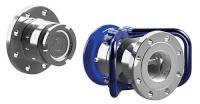 Using its knowledge and experience of cryogenic breakaway and emergency release couplings, KLAW has just launched a dry disconnect coupling for the transfer of cryogenic media such as LNG.
The CryoDC is designed as a quick connect and disconnect coupling with no spillage of product. This is a major advance on more traditional methods of connecting cryogenic transfer lines, such as flange connections and hammer unions/CGA fittings.
The CryoDC comprises a tank and hose unit. Operation is a single action using a straightforward turning motion to connect the couplings which opens the internal valves. This requires no special tools or torque settings. The new cryogenic dry disconnect coupling is therefore much faster, safer and more reliable than traditional methods meaning operators require far less training.
The new CryoDC from KLAW is designed for a variety of applications such as bunkering, tank storage facilities, refuelling applications, Air Separation Units (ASU), railcars, trucks, and ISO tanks.
Precision engineered in stainless steel with PTFE seals, the CryoDC hose and tank couplings are available in 2-, 3-, 4- and 6-inch diameters. They are available with ANSI 150 flange or NPT female with other connection types also available. All CryoDC units are designed, manufactured and fully interchangeable with ISO 18683.
This new CryoDC coupling joins a full range of cryogenic transfer products from KLAW including Cryobreak, Cryo Emergency Release Couplings, Cryo Metallic Hoses and Cryo Composite Hoses.