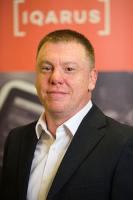 Healthcare and medical solutions company Iqarus has appointed Matthew Partridge to the new post of Chief Technology Officer. The move reinforces the company's strategic vision of harnessing innovation and technology to deliver a step change in the quality of health care delivery in remote and difficult operating environments.
As CTO, Partridge will drive the development and implementation of cloud based solutions that enable Iqarus to improve the health, productivity and wellbeing of workforces and communities in the world's most challenging environments. Partridge brings to Iqarus more than 18 years' experience working as a business analyst, implementation consultant and senior leader within the customer relationship management (CRM) solutions market. He has worked globally in delivering and integrating cloud platforms across a wide array of industry sectors. He joins Iqarus from Appirio Ltd, a strategic partner to Salesforce, where he was a business architect focussed on developing innovative solutions uniquely tailored to the needs and strategic priorities of his clients.
Commenting on his new role, Partridge says, "I am excited to be working with an organisation committed to developing technology-enabled solutions in such a challenging market. Our focus at Iqarus is to provide customers with a truly dynamic health solution, projecting the highest quality of health provision to the toughest locations. We deliver unprecedented access to data and analytics, empowering customers to shape better solutions, both for immediate workforce health and long-term wellbeing."
Iqarus is a global provider of intelligent health solutions in remote and difficult operating environments, ranging from front-line healthcare and multi-skilled medics to occupational health, occupational hygiene, medical supplies and training; supporting clients in regions such as the North Sea, Middle East, Africa, Asia and the Americas.
Tim Mitchell, CEO of Iqarus, adds, "Our aim is to be at the forefront of technological innovation in our industry. As such, we are investing in the rapid development and deployment of innovative technology to deliver added value to customers. As CTO, Matthew will be instrumental in driving our dynamic health strategy which today includes a ground-breaking solution for electronic medical records management in remote environments as well as a focus on the opportunities for remote health enabled by telemedicine. As a former consultant to Iqarus, Matthew brings an intimate understanding of the complexities of our business coupled with outstanding technical credentials. We are pleased to welcome him to the team."