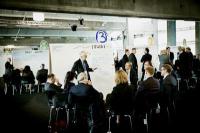 A new report from the Danish Maritime Forum sets out new ideas to address five of the most important challenges the global maritime industry is facing. The report is a product of the discussions which took place at the maritime summit in Copenhagen last month.
A proactive lead Frontrunners in the industry should take the lead to proactively address the most important challenges the industry is facing. This seemed to be a common view when more than 200 industry senior leaders, government officials and other influential decision-makers and opinion shapers from across the global maritime industry recently assembled in Copenhagen for the second Danish Maritime Forum. The main focus was on what steps might be taken to strengthen cooperation between all maritime stakeholders to benefit society and the industry at large.
"The maritime industry is the backbone of globalisation and international trade. In order to unleash its full potential and contribute to human wellbeing through growth and development all around the world most participants in the Danish Maritime Forum agreed that frontrunners in the industry could do a lot to advance collaboration, heighten standards and proactively engage with policymakers on the regulatory landscape of the future," says Anne H. Steffensen Chairman of Danish Maritime Days.