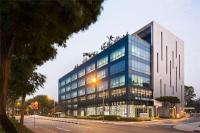 Energy demand in South East Asia is expected to grow at twice the rate of the rest of the world. DNV GL has appointed Arve Johan Kalleklev regional manager for Oil & Gas in South East Asia just as the company is establishing a dedicated LNG and Gas Consulting unit in Singapore. The unit will support the extensive development plans for a safe, secure and reliable gas and LNG infrastructure in Asia.
It is estimated that USD 460 billion will need to be invested in South East Asia's gas and LNG infrastructure by 2035 to meet energy demand. "This will secure robust growth in LNG supply. The Pacific Basin has some of the largest exporters of LNG, but also some of the oldest plants - many more than 20 years old," says Mr Kalleklev.
"By establishing the LNG and Gas Consulting unit, DNV GL is demonstrating its continued commitment to Singapore's ambition of becoming Asia's natural gas hub. I believe DNV GL has an important role to play as an independent partner with more than 50 years of experience at the forefront of the LNG industry. We have the technical knowledge and global insight to support the industry across the entire oil and gas value chain," he continues.